Don't worry, this has nothing to do with romance. I'm talking about those who love to fly on American Airlines or its partners in Oneworld alliance. So, what are those cards exactly? They are: Chase British Airways Visa, Citi AAdvantage MasterCard and Citi Prestige. The official affiliate offer on AAdvantage card is down to 30K mies, but there are links on Flyertalk for personal and business versions that come with 50K miles bonus after spending $3,000 in 3 months. Chase BA Visa and Citi Prestige pay me referral and you can read more on them in my page "Best credit card deals for family." Note that some have reported getting a targeted offer of 100K points on Citi Prestige by checking this non-affiliate link, but I had no such luck.
So, which one is the best fit for your situation? It really depends on where you are going, your dates flexibility and whether you like to hang out at the airport lounge.
You may want to pick Citi Prestige if:
You plan to fly around holidays, have a large family and frequently book your flights a month or two ahead. The sign-up bonus is 50,000 Citi Thank You points after spending $3,000 in 3 months. That amount will give you $800 towards flights on American Airlines and codeshare flights.

You don't want to be tied only to American (and its codeshare)  flights. These points can be redeemed for 1.33 cents each towards airfare on any airline. Some are not displayed in online search, but you should be able to call their center  and book them over the phone. Also, the points transfer to various frequent flyer programs. See my post for more on this.

You plan to use Priority Pass lounges. This card comes with free membership as long as you are a cardholder. You can bring your entire immediate family (the Duggars should look into it) or 2 non-related guests. We actually took advantage of this benefit in Munich airport. My verdict? It's a nice perk, but I would never pay for it. The lounge had some tasty snacks like mozzarella balls, pretzels, sausages, cookies and free alcohol. My daughter went gaga over it, no kidding. I don't mean alcohol, the other stuff.
But, it took us a long time to find the lounge, my husband felt weird there and ate very little, plus my kids were kind of loud. It felt like we were on display. The lounge attendant was very nice, though. Overall, I think it's a decent benefit for  a couple if you have a long layover. When you've got loud kids (and whose aren't?), you might feel out of place. Of course, if you bring 6 or more children, in all likelihood, you will have the lounge all to yourself in no time. #Winning
Interestingly, my husband's uncle applied for this card. Why? They are flying to South Africa later this year and plan to be in several airports that happen to have Priority Pass lounges.  Since he has 6 people in the family, free food will come in handy. Of course, he mostly applied for 50K points, but this benefit is what sealed the deal.
Not a huge thing, but this card also comes with a unique golf benefit.  If you like to golf alone, you can certainly make out like a bandit. I'm not a golfer, but I'm tempted to become one! Read about it and other premium benefits of Citi Prestige here
If you frequently stay 4+ nights at a  hotel and pay for it out-of-pocket, you might also want to consider this card. That's because you get reimbursed for every 4th night when booked through their partner. This is a legitimate benefit, and prices are comparable to those you can find on most travel sites. I doubt I'll take advantage of it, though, since we usually stay on points.
You have some paid flights you need to book in a near future or don't mind buying and reselling an airline gift card. This is where I address the big elephant in the room. No, I'm not talking about the fact that the card pays me referral. I'm talking about $450 annual fee. It sounds enormous, and it is. But in reality, you can make up for it and even make a $50 profit. That is because the card comes with $250 annual airline credit.
It's not just a credit for incidental charges like baggage fees, bur for anything coded as airline purchase, including gift cards bought directly through airline website. So, if you got the card within the next few months, you can take advantage of it this year, and then get another $250 next year. Then you should probably convert it to Citi Thank You Preferred (no annual fee) or cancel it.
I've mentioned that I got this card and wrote about my reasons as to why. In the next month or two I plan to apply in my husband's name as well.
Consider Citi AAdvantage card if:
You have  a considerable amount of flexibility and can commit to dates a long time in advance.

You plan to take a long (normally expensive) flight that involves several connections.

You want to redeem miles on one-way flights. Within USA, it's a non-issue, but many times, if you book  a flight to Europe, revenue one-way ticket will cost you more than roundtrip.

You want to take advantage of their off-peak chart. This goes along with the previous point. For example, say you live on the West coast and plan to fly to Europe in April. You can do it for only 20,000 AA mies one-way and even get a 10% rebate. Compare it with Citi Thank You points via Prestige. If you used 18,000 points, you could get $290 in flights on American and its codeshares.  It would be very hard to find a one-way flight to Europe for that price. Not impossible, just hard.

You like flexibility. When you use AA miles, you can change the dates at no cost as long as origin and destination stay the same. If you need to cancel and re-deposit miles, you will pay $150 fee for the first passenger, and $25 for an additional one. Most discounted revenue fares are non-refundable.
Consider Chase British Airways Visa if:
You need to take short non-stop flights on American, Alaska Air and US Airways. While their business class redemption has changed on some routes, economy flights still cost the same amount. The chart is distance-based: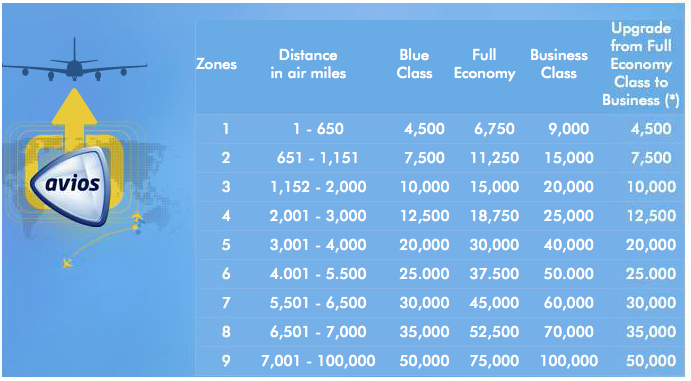 I wrote before about some good uses of Avios (Britsh Airways miles), including Boston-Dublin route, one of the best bargains in the miles and points hobby.
Your plans can change at the last minute due to work or other reasons. If Avios mileage price is comparable to that of AAdvantage for the same exact flight, it makes sense to go with Avios. That is because  if you cancel an award, you  only lose the amount you paid in taxes, which is usually a few bucks for one-way flights within USA. Compare it to $150 or more in AAdvantage, and you can see why this makes more sense.

You want to pull Avios from your account with that of your spouse's. This is a huge perk of Avios program because it lets you create a household account. I wrote on it here
Bottom line
As always, only you know what works for your unique situation, but hopefully, this overview gave you a more clear picture on what's out there for lovers of all things American and beyond. Should you get any of these cards? Maybe, maybe not. Only you know the answer.
Author:
Leana
Leana is the founder of Miles For Family. She enjoys beach vacations and visiting her family in Europe. Originally from Belarus, Leana resides in central Florida with her husband and two children.